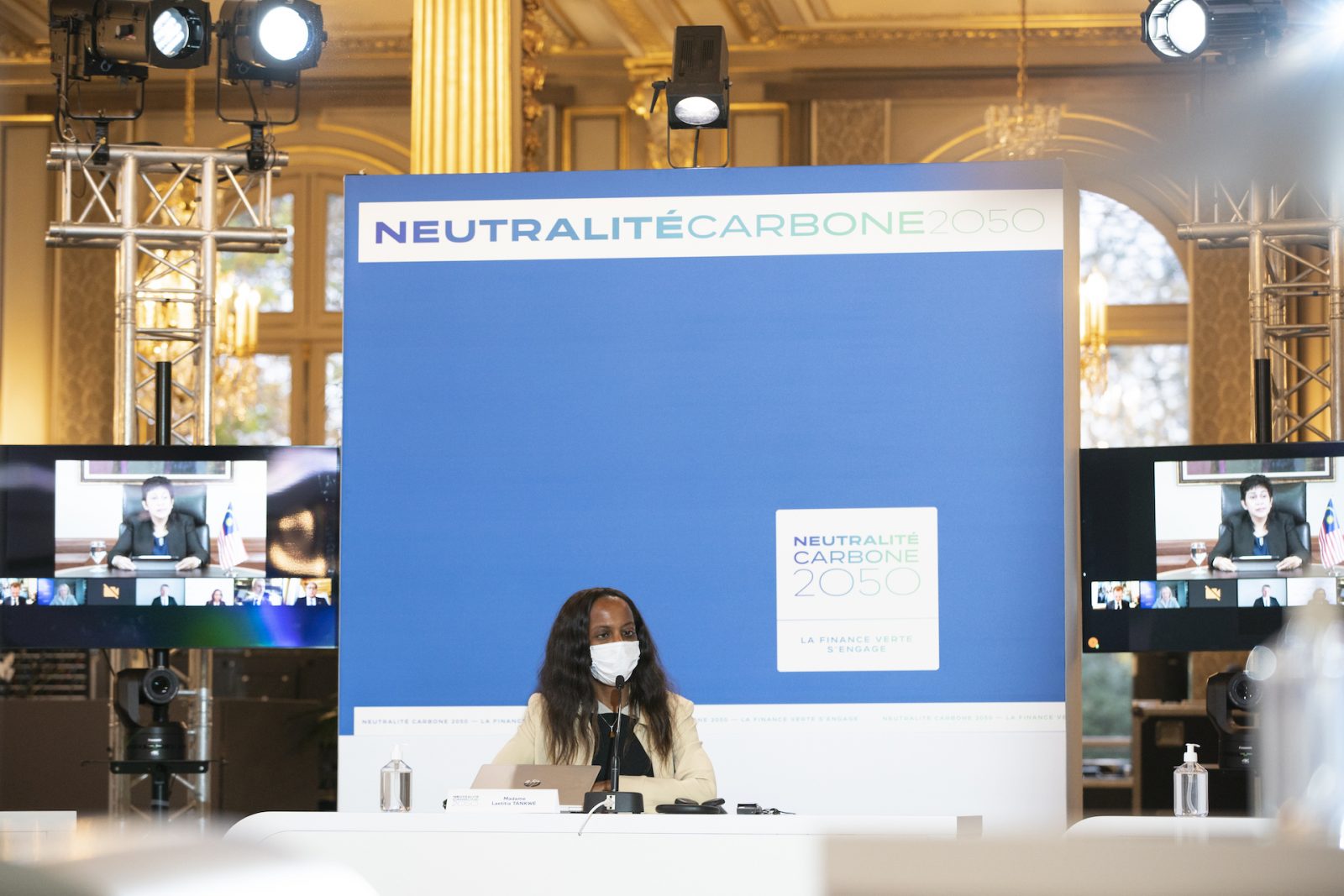 By Laetitia Tankwe
Chair, Climate Action 100+ Steering Committee
Adviser to Ircantec President Jean-Pierre Costes, Groupe Caisse des Dépôts.
Year-in-review articles will soon be appearing, with COVID-19 dominating the coverage. I hope as you reflect on 2020, Climate Action 100+ will inspire both pride and hope for the year ahead as it has for me. I felt both during events marking the five year anniversary of the Paris Agreement, which made clear how much the pace of climate action is accelerating.
I had the good fortune to represent Climate Action 100+ at a working meeting at the Élysée Palace with President Emmanuel Macron, Finance Minister Bruno Le Maire, and Olivia Gregoire, Secretary of State of social, responsible and inclusive economy. The meeting marked the third anniversary of the One Planet Summit, where Climate Action 100+ was formally announced.
The meeting provided opportunity to share highlights from our just published Progress Report. For instance,  that 54% of the oil & gas companies on our engagement 'focus list' have committed to a net zero target by 2050 covering scope 1 and 2 emissions. I also noted, however, that capex at these companies is not aligned with these commitments. 
Also, I indicated that, although as investors we have leverage to contribute to a low carbon economy, we face a range of policy barriers in the process. I took the opportunity to present some of these, including:
Reduced leverage when engaging with majority state-owned enterprises

Countries that have taken an inhospitable approach to regulation

Obstacles to filing shareholder resolutions

The lack of a global framework based on consistent, reliable data
I also acknowledged the leadership that France has shown on climate-related regulations and financial products, and I suggested that the country could consider issuing the first SDG bonds.
Climate Action 100+ was also represented by Nicolas Moreau, Chief Executive Officer of HSBC Global Asset Management, which has worked as lead or supporting investor at companies such as Anglo-Australian miner BHP, Norwegian oil & gas produce Equinor, Indian & European steel producer ArcelorMittal and France's own Total. All have made significant emission reduction commitments. 
In Moreau's words:
It was clear from President Macron's remarks that he views Climate Action 100+ as an important initiative and feels a close association with us, given our launch at the One Plant Summit. He mentioned some of our lead investors and asked two questions: 
What's next — after our 5-year term concludes?

What can Climate Action 100+ do to encourage signatories to fund the green transition?
On the first, I assured him discussions are underway to explore a 2.0 version of the initiative. On the second, I said we are coordinating with the Net Zero Asset Owner Alliance and Net Zero Asset Managers, both of which are better suited for discussions around investment allocation. Our remit remains to engage with the largest emitters of greenhouse gases and convince them of the material risks we, as their largest investors, face if they avoid an orderly transition to net zero emissions. 
In his conclusion, President Macron underlined the importance of private initiatives as a counter to weak country level NDCs. He said the finance sector broadly must support a strong climate agenda, including central banks, public banking, commercial banks, asset managers and asset owners. He announced that France's 40 largest listed companies have committed to TCFD. 
The anniversary celebrations provided a very energised end to a busy 2020, partly due to a range of announcements, including:
The

Public Development Banks Coalition announcing a commitment to align with the Paris Agreement. The public banks will support the definition and implementation of ambitious NDCs, adaptation plans, and long-term strategy while also making sure that every project financed provides a positive contribution to Paris-aligned goals.

The chief executive of French insurance giant Axa called for the creation of a net zero underwriting alliance in time for COP26 that would see companies from across the insurance sector align their business activities with a 1.5°C future.

Space agencies from 25 countries agreeing to

pool spatial data on climate change in order to:

assist in public decision making;

improve communication with stakeholders: general public, researchers and academics; and

contribute to the Sustainable Development Goals.
The five year anniversary events made clear that the bar has been raised on climate ambition by many stakeholders. We started with 2°C as an aspiration and we have moved increasingly to a strong commitment to 1.5°C, with capital commitments and remuneration growing areas of focus. As the year turns, I am proud of all that we have accomplished together and I look forward to working with you to realise the ambition of the Paris Agreement.